March was a head-down, nose-to-the-grindstone kind of month--at least in terms of schoolwork. As soon as one project wrapped up, another one (or two) would be added to the list. I'm sure most of you students can relate! But I'm chugging along, counting down the weeks until
freedom
summer break!
We had an honest-to-goodness SNOW DAY at the beginning of the month--which is impressive, given that Manitobans are stubbornly snow-resistant--so it's kind of amazing that four weeks later, I can practically
watch
the snow melt. Spring is on its way! That always fills me with hope.
A couple of random highlights before we jump into the juicy stuff . . .
I took my sisters to our church's youth group, which doesn't happen all that often due to the distance. But during leadership college last year, I spent many, many Friday nights volunteering there. So it was refreshing to go back and spontaneously throw on my volunteer name tag, roll up my sleeves, and dive in again. I had missed that place.
Second-hand book fairs are a Very Wonderful Thing. I went to one with my fam jam and came away with an arm-aching load of ten books, six of which were hardcovers: all for $14! I am still ecstatic, despite the realization that at this rate, my floor will disappear in approximately 2.3 months.*
*This is what happens when your bookshelves are so full they throw up on the floor. You're welcome for that mental image.
Juicy News Item #1: I registered for Realm Makers! Yes! It's official! This will be my second time attending (actually my second writing conference altogether), and I couldn't be more thrilled. The lineup of speakers looks amazing, and I'm not at all ashamed to admit that at least half of my classes will be held by Nadine Brandes and Mary Weber, both of whom are Queen Authoresses in my humble opinion. I've got roomies set up, the hotel is soon to be booked, and I'm working on my flights right now. Deciding to attend this year is, once again, a step in faith financially speaking (thank you, college tuition), but God provided for me last year and I'm confident He will again!
Juicy News Item #2: Today marks the third anniversary of Adventure Awaits! Say what?! I know, it snuck up on me this year too. I'd love to do some kind of celebration to thank all of you incredible souls who have either recently joined me, or have been around since the beginning, or something in between . . . But. College life. See first paragraph. That being said, what do you all think about a belated blogoversary party sometime, oh I don't know--end of April? Beginning of May? I want to do something this year, since last year I didn't have time to do anything either! (And I'd be open to party suggestions!)
Juicy News Item #3: Many of you probably know this already, but the winners (and honorable mentions, and Special Unicorns, etc.) of Five Poisoned Apples are being announced on the special Facebook page TONIGHT at 8pm EST! I . . may have created a temporary account just so I wouldn't miss the festivities.* I am about to burst with excitement. There has been such creativity and skill this year that no matter who wins, I can't wait to get my hands on the complete, polished Five Poisoned Apples book when it releases!
*But at this point, I wouldn't bother friending me, if I were you. My plan is to keep Facebook very much in the background after the announcement until I can figure out a productive, disciplined social media schedule. I'm spending too much time on such things as it is!
Screen Subplots
Avatar: The Last Airbender
I watched only two episodes of this with my sisters, but it's still an amusing show, and Aang is still cute.
Finished Once Upon a Time Season 3 and started Season 4
Yep! My siblings and I
finally
finished the third season, which may be one of my favorites, and dipped our toes into the fourth--as in, we watched only one episode. It's a rewatch for me and my sisters, but it's all new to our brother,
Josiah
, whom we've successfully roped in.
Once Upon a Time Season 6
My sisters and I saw a little bit more of the second-newest season. It hasn't wowed me yet, but it's starting to improve. Here's hoping it continues that upward trend! (I'm still in this for Hook, no matter what.)
Finished The Flash Season 3
*sobs for hours*
Um.
Guys.
My heart is a mangled mess of feels and the only way I'll recover is if Season 4 FIXES ALL THE THINGS THAT ARE BROKEN AND MAKES EVERYTHING HAPPY AGAIN. I refuse to give spoilers, but let's just say that was the most bittersweet ending of a Flash season yet. Yet it's currently my favorite show! Because I like pain, apparently.
Thor: Ragnarok
I've been waiting forever for this to come out on DVD, and it finally arrived. I felt like I knew a bit too much going in, after seeing so. many. pictures. all over Pinterest, but it was a really fun, really enjoyable movie. I laughed out loud. Like a lot. Seeing Thor's funny side take over, rather than his moody god side, was just the refreshing twist a lot of fans were looking for, I think. Although,
like Christine said
, there were a couple of places I would've liked to see the emotion drawn out a bit more. Still--Loki was there! I will never get tired of seeing those two banter back and forth (albeit in a "I'll kill you if you so much as hint at betrayal" kind of way).
Ferdinand
Eh. It was cute, and it had a few laughable jokes, but . . . I don't know, guys, I feel like I've seen this plot about twenty-five times before. And Pixar does it better. Still,
apart from
the eccentric goat nicknaming the titular character "F-Bomb" once, I think kids would enjoy it. On a more positive note, this movie is set in Spain, which is unusual! And Ferdinand himself stuck to his convictions without wavering, so that's another plus.
Black Panther
SO GOOD.
Not perfect, but really, really, really good. I wasn't sure what to expect, since we don't get to know all that much about T'Challa in Civil War, and since half the internet seems to be making this movie a race thing when--I'm sorry, but can't we just focus on making good art? (Which is a whole 'nother post for a whole 'nother day, if I decide to put on my controversial hat.)
Anyway! Where were we? Right, it was a great movie, beautifully shot, and full of well-drawn characters. I loved T'Challa's sister, Shuri! She's the real deal, guys. And there were so many other great ones: Nakia, General Okoye, Klaue, and Agent Ross being among my favorites. If you didn't get the hint yet, I'm always in it for the characters! But truly, the action and plot and setting (Wakanda forever!) were fabulous too. The main downside for me was the ancestor worship, but even that didn't detract too much from my enjoyment.
Jumanji (2017)
I remember watching the 1995 version a long time ago. It was one of my first scary movies, and I loved every thrilling minute of it. So when I saw the hilarious trailer for the remake, I was super excited!
And . . . well. It wasn't quite as good as I'd hoped. I was fine with the plot being the shallow action flick kind--and it made fun of videogame tropes, which even I enjoyed as a nongamer--but I really could have done without the crude humor. If you haven't seen the movie yet, the basic idea is that four teens get sucked into a videogame, where they appear as the avatars they chose. One girl unwittingly chose a male avatar, and as you can guess, this becomes the source of way too many inappropriate jokes.
Other than that, it was pretty funny! I still liked the old one better, though.
Page Storylines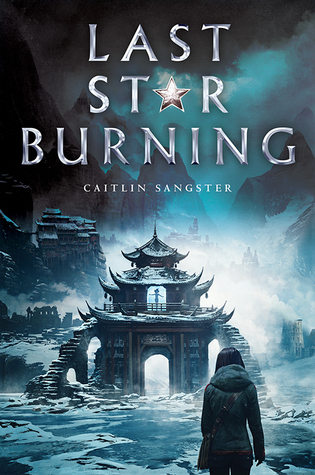 Last Star Burning // Caitlin Sangster
Hmmm, very mixed feelings on this one.
I liked the world--a dystopian/futuristic China! I liked the hints of Sleeping Beauty scattered throughout. The Sleeping Sickness, based off a real disease called encephalitis lethargica, was cool too. I liked that Sev, the protagonist, was actually loyal to her City's (abusive) government, which is uncommon for dystopian heroes. And because this book came in a
PageHabit box
, there were sticky note annotations by the author, which I also liked.
But I wasn't a big fan of the info-dumping used to explain how everything worked, especially at the beginning. I didn't like having to reread action scenes to understand what was going on, since the writing style got a bit jerky at those parts. By the end of the book, there were very few characters left that I actually
liked
. Most people turned out to be backstabby. And a lot of the conflict could have been avoided if Sev had just asked more questions and used her common sense. You'd think that an orphan who was branded and bullied by the City would naturally be a little more suspicious!
Oh, and Howl's name made me think of
Howl's Moving Castle
, which this book was definitely nothing like. Not a
bad
thing, per se, just a thing.
So overall, I was decently entertained and will probably pick up the second book when it comes out. But my disappointment in a certain character has colored my opinion of the whole story, sadly.
Three stars.
Circles of Seven // Bryan Davis
THIS IS MY FAVORITE DRAGONS IN OUR MIDST BOOK AND I LOVE IT SO. I'm such a sucker for symbolism and metaphor, and this one is packed with it, so of course it's my favorite!
Billy has grown so much since the beginning of the series. It's refreshing to see a hero actually learn from his mistakes, instead of constantly backsliding to square one. And as all the friendships deepen, these characters just keep growing. Bonnie is one of my heroes; her faith is so beautiful to see. I loved seeing Ashley and Walter argue and banter more--there's so much snark, but also a really healthy conflict resolution! Professor Hamilton continues to be a lovable, sprightly old gent who yells about driving on the wrong side of the road, physically attacks baddies, trips a rude cameraman, and holds fast to godly wisdom through it all. I love him. The only character I hate is Morgan, and she's, well . . . supposed to be hated.
I loved the setting too. Most of it takes place in England and in the seven circles, which carry so much of that spiritual symbolism I was just raving about! And there's one scene near the end that I'd nearly forgotten, a scene heavily inspired by Ezekial 37 . . . chill-inducing, in a really good way.
I feel like I uncover more of this book every time I read it. This was my third time, I think, and I'm sure I'll still find more next time.
Five stars!
Written Subplots
I'm not quite sure how I managed to get any of this done, but . . . apparently I did!
I compiled more beta feedback on
The Brightest Thread
, this time covering chapters 7 through 15. I was hoping to get to chapter 18, but didn't quite make it. I'm seeing patterns in what's working and what's not working in the story, and the more I prepare, the more excited I get to tackle revisions this summer! Just this week, I received some golden advice for how to fix one of my main trouble spots.
I also wrote another little flash fiction piece this month, and I quite like it. It needs a bit of buffing up, but then I plan to submit it to Splickety for one of their summer editions!
Farewell, March
So it was a good but busy month! It looks like I watched more movies and read fewer books than usual (oops), but still got some writing progress done. Now I'm looking forward to April!
Happy Easter, everyone! Tell me, how was your month? Are you going to be at the Five Poisoned Apples reveal? Any ideas for a belated blogoversary party? And--as if our TBRs need any help--what's a book that gets richer every time you read it?