This month was a whirlwind from start to finish! I hardly know where to begin.
Life happenings
Well, for starters, I have an absolutely wonderful family . . . a family that takes every opportunity to celebrate each other and enjoy holidays together.
So Valentine's Day is actually a thing in our house.
We all make or buy cards for each other, my mom does her magic in the kitchen, and we enjoy said magic by candle-light. This year, dessert was candle-lit rather than supper, simply because the supper table was so full of food that attempting to eat in semi-darkness would've been unwise. We had one of my grandmas over for the special dinner, and afterwards we exchanged cards.
Okay, I don't normally do this, but I feel inclined to give you a peek into the Valentine's evening at the Dyck household:
[from Mom to me] . . . God rejoices over you with singing! He carries you close to His heart! He has a picture of you tattooed on the palm of His hand. You are not forgotten!
[from Dad to me] . . . Look back to see how far you have come. Now look forward to see how far you will go. Now look at the present and see who walks with you. He has always been with you, He will always be with you, and He is with you.
[my brother Josiah is not into crafts--nevertheless, he made one card to give to all of us. sweet guy.]
[from Miss C to me] . . . You have a great writing voice; you are caring and helpful; you still know how to have fun even if you're an adult . . .
[from Miss K to me] . . . Thanks for hanging out with me. I love how goofy and sweet you are.
And then a few words between other family members:
[from Miss C to Dad] . . . Some of the things I love about you are . . . your warm chuckles . . . your wisdom; your courage; and your wonderfully safe hugs . . .
[from Miss K to Dad] . . . Thanks for being there for me and being my hero. You are awesome!
[from Miss C to Mom] . . . Here's a few things I love about you . . . your wonderful little quirks; your gentle touch; your caring personality; your encouraging words; and your prayers . . .
[from Miss K to Mom] . . . You always have a hug for me, right words for me, and you always are ready to help me . . . You are the GREATEST mom ever!!
[from me to Mom and Dad] . . . Thank you for living out the meaning of love, for treating it as a verb and not just a noun . . . Home is still--and will always be--a safe harbor. Thank you for teaching me both how to trim the sails and venture forth, and how to sail home again . . .
[from Dad to Josiah] . . . You remind me of a superhero, an all-around nice guy who comes to the defense of those who can't defend themselves, who does good to others even when he isn't noticed . . .
[from Miss K to Josiah] . . . I love hanging out with you and laughing with you. Thanks for playing Wii with me, which is very fun!
[from Mom to Miss C] . . . You are such a beautiful young lady--inside and out! You have eyes that shine with the love of Jesus! God has great plans for you and your future . . . Thanks for adding such sweetness to my life!
[from me to Miss C] . . . Keep discovering the immeasurable height, depth, and width of God's love for you! It will blow your mind.
[from Miss C to Miss K] . . . I love the way you smile and laugh; your beautiful big brown eyes . . . the way you encourage me with kind words and hugs when I'm sad . . .
[from Dad to Miss K] . . . When God made the world, He knew that one thing was missing--joy and laughter. It took Him many years to perfect it, and when He did, He made you!
See what I mean? Families like this are rare, and I absolutely don't say that in any haughty way. But I
am
proud of these special people and the bonds we've forged. We're not perfect. Far from it. I hope I don't present us in a cleaned-up light, because the truth of the matter is, we're messy humans who sometimes snap at each other or say unkind things. But we love each other fiercely.
My sisters went all out this Valentine's--they spent hours holed up in their room, making art for all of us. On a whim, I decided to present my siblings with sketches too.
Miss K's drawings--aren't they completely adorable? The otter on the left was for me.
Miss C's drawings, which are so very lovely. Especially *cough* the Captain America she drew for me.
And Once Upon a Time's Peter Pan for Miss C.
(Though the more I look at it, the less convinced I am that
he turned out right.)
And lastly, I drew Ultron for my brother.
A bridal shower!
A very dear friend of mine is getting married next month, and I'm one of her bridesmaids, which is incredibly exciting! So for about two weeks this month, my brain has been in bridal shower mode, with little room for anything else. From invitations to food, activities, decor, and supplies, the four of us bridesmaids brainstormed and made it all happen on a short deadline. It turned out beautifully, and I couldn't be happier for my friend.
Miscellaneous life stuff:
The long weekend (February 15) was a welcome breather in the middle of the month. We went sledding with friends and had a lovely day.
My mom slipped on the ice while running errands, but thankfully she's fine now!
Inventory happened at the store. Lots of work involved. And counting. So much counting . . .
There have been some health issues with a relative, but she seems to be doing better. We continue to pray for her.
On a lighter note, I fell into the behavior of the stereotypical, clueless-about-cars kind of girl. I've had my license for over two years now, okay, and I've been a working woman for about a year. And yet until recently, I'd never filled up with gas by myself. So I pull up to the pump and ask the guy to fill it with mid-grade. "Can you open your gas cap, please?" he asks.
I freeze. Because oh my goodness, where is the switch for that?! I shoot my sister a panicky look. She smirks. (Thank you, C.) I flutter my hands over the dashboard and steering wheel area. I pop the trunk. Then the hood. Finally I call out, "Um, this is embarrassing, but I'm having a blonde moment and forget where the switch for that is." The guy didn't know, either. Or wouldn't tell me. I asked him to hold on, then called my dad.
"Tracey, we've been over this," he says.
"I know!" I wail. "But I forgot!"
So he tells me where it is--it's a silly little switch down on the floor, on the left side; and I'll probably never forget that again. When I climbed out to go pay, I apologized again to the guy, who said, "No problem. Happens all the time . . ." Except his voice trailed off uncertainly, telling me that
no, it doesn't actually happen all the time, I'm just trying to make you feel better.
Screen happenings
Finished Once Upon a Time Season 2 and started Season 3. My sisters and I adore Peter Pan, in case you didn't catch that with my portrait. All this Neverland stuff is quite fun, and I am ever so conflicted over certain things!
I SAW THE FELLOWSHIP OF THE RING FOR THE VERY FIRST TIME. Oh stars, it was amazing. I can't believe I went this long without watching it! Being the extended edition, my brother and I watched it in three sittings over the long weekend (in between family activities, you understand). We were blown away. It was perfect. Soon after the final credits, I was ready to watch the movie all over again. I went from feeling cozy and comfortable to laughing uproariously at the four hobbits, to feeling chilled (Black Riders!!), to being gripped with the excitement of the quest, to-- Oh, I don't even know. It's glorious. That's all I can say. (Also, Aragorn.) And the Shire musical theme makes me stop and smile wistfully into the distance every single time I hear it.
Book happenings
The Invaders by John Flanagan
I love the
Ranger's Apprentice
series, so of course I'm reading his newer series,
Brotherband Chronicles.
In this second Brotherband book, I found myself enjoying all the usual Flanagan trademarks: smart protagonist, clever battle/weaponry tactics, and wry humor. Plus lots of sailing stuff. A good read, for sure.
A Snicker of Magic by Natalie Lloyd
If you've been reading Adventure Awaits for a while now, you might remember way back in summer when my siblings and I picked out library books for each other to read. It gets us out of our usual ruts and gives us something new to try. We just did it again this month, and
A Snicker of Magic
was Miss K's pick for me. And this book is now one of my all-time favorite middle-grade novels! Seriously, Natalie Lloyd's voice is just crackling with magic. The story has a Southern, small town, whimsical, hilarious, heartwarming,
spindiddly
flavor to it. Felicity, the protagonist, catches the words she sees hovering over people and places. Along with her mom and little sister, she arrives in the little mysterious town of Midnight Gulch. What ensues are new friendships, old legends about the Brothers Threadbare, an upcoming talent show that scares Felicity right out of her word-covered sneakers, and
buckets
of ice cream. The supporting cast is delightfully quirky, and my heart ached for poor Felicity as her mom longs to uproot and move the family for the hundred-millionth time.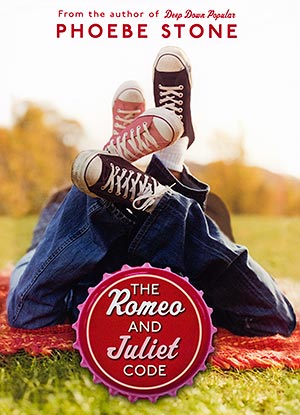 The Romeo and Juliet Code by Phoebe Stone
Miss C picked this middle-grade book for me. It took me a little while to get into it, but I soon realized how great the author is at setting the mood. The book starts off feeling kind of hollow and gloomy as the main character (another Felicity) leaves England at the beginning of WWII to stay with her relatives in Maine. Without her parents, so far from home, the poor girl is without an anchor. Her uncle receives strange letters written in code from her parents, and refuses to let Felicity read them. But things begin to look up when she meets Derek, a boy with a paralyzed arm. Together they strive to crack the code, and in the process, begin infusing the gloomy old house with a little bit of life.
Artemis Fowl by Eoin Colfer
Josiah's pick. It's a very unusual sort of book, I must say. Artemis himself is a veritable villain, so you're left to cheer for a handful of exceedingly strange fairy creatures. There's Holly Short, a rebellious LEP-Recon officer (haha, get it?) . . . Captain Root, her boss, a guy with anger issues . . . Foaly, a technologically brilliant centaur who's paranoid that the humans (disdainfully referred to as Mud People) can read his mind, and thus wears a tinfoil hat at all times . . . and Mulch, a dwarf who, ah . . . Well. Let's just say that these dwarves can unhinge their jaws and chew through dirt at a rapid pace. And their metabolism is extremely fast. Hence, their digging pants are equipped with a back flap. Yeah. You see where this is going. This book is written with young guys in mind, but nevertheless, I found much to snicker at, and I give Mr. Colfer points for the unusual fairy elements. I'll likely keep going with this series.
You Have a Brain: A Teen's Guide to T.H.I.N.K. B.I.G. by Ben Carson, MD
The first half of the book tells how Dr. Carson was born into poverty, and through his mother's guidance, God's help, and his desire to learn, became a neurosurgeon. There are some amazing anecdotes from his career, such as the time he removed half of a little girl's brain in order to stop the hundreds of seizures she was having every day. And she survived. And went on to graduate from college and live a fulfilling life.
The second half goes over some principles for thinking big, specifically in regards to the future. He covers Talent, Honesty, Insight, Niceness, Knowledge, Books, In-Depth Learning, and God (T.H.I.N.K. B.I.G.).
Blog Happenings
On a whim, I started a month-long linkup called Lovely Books, in which we discussed:
Oh, and you may have noticed my embarrassing mistake . . . Whilst drafting the quotes post in the middle of last week, I accidentally hit
publish
. I noticed it less than half an hour later, and hurried to revert the post to draft form before anybody could read my half-formed jumble of words. To my dismay, however, the post remained on my dashboard--and the dashboards of everyone else who follow me. Clicking the link led to nowhere, of course, but still! It
looked
as if I had posted it half a week early. Of all the times to do such a thing, it had to be for something I'd hoped to keep secret until Saturday! And then when I did publish the post, it didn't appear at the top of the dashboard like normal new posts--it remained waaaaay down with the other 'four days ago' posts on my feed.
Ah, well. Lesson learned. Keep the cursor far, far away from the publish button until ready.
Anyway, thanks again, all you lovely bookworms! We'll have to do something like this again someday.
Written Happenings
I made a game plan for my 2016 writing goals, if you'll remember from
January's Beautiful People post.
I planned for February to be my research month, so it's harder to gauge whether I reached those goals.
I started out by taking a deep breath and diving into the murky waters of . . . gasp . . .
querying agents.
No, I haven't actually sent out any queries yet. But I did begin researching, looking online for agents who represent my kind of work, reading some articles on how to query and what agents look for, etc. The amount of information, ambiguity, and general unknown-ness of it all is daunting, but I'm excited to rise to the challenge.
After reading
Jenelle Schmidt's
comment on
Christine's BP post
, I spontaneously chose to purchase a book Jenelle recommended:
Guide to Literary Agents 2016!
The things I've learned from even just the beginning articles are so, so helpful. I haven't yet delved into the listings of a thousand agents, but I know it will be an invaluable tool in the coming months. Thanks, Jenelle!
I did a little bit of research on different locations featured in my fantasy book 2, which I plan to start redrafting next month. This is where I didn't get far at all, so I foresee much more Googling and librarying in the future. I want to look into British Columbia, Ireland, Greenland or Iceland, Russia, and Australia. Yes indeed, this book includes a fair bit of globe trotting on our world, followed by daring escapades in the other world!
And I felt rather officially author-ish this month, questers, because I actually
interviewed
someone for
book research
. A certain character in book 2 gets diagnosed with a mental illness--which is a complete error, because the wild tales he tells are 100% true--so I needed to know how this process would work. What would he be labelled as? What would treatment look like? How would others respond? How would the family be advised to act around him? Would he be medicated, counselled, taken out of school?
All these questions and more were answered by a fellow my dad knows through work. As a Christian working in the field of mental health, and as someone with a big enough imagination to accommodate my fictional situation, he was the perfect person to talk to. So we chatted over coffee one Saturday, and I scribbled three pages of notes and wound up borrowing four books from his office. Armed with all this information to make my character's life miserable (and believable), I am most excited to start writing next month.
And that, my friends, was February.
Like I said, it was a whirlwind! There was so much happening, at least in my brain, that I found myself identifying with this amazing song:
March looks like it will be full speed ahead as well, but I hope to catch up on your Lovely Books posts--and blogging in general.
So many things to look forward to in the next thirty-one days! My friend's wedding, delving into book 2, more agent research, and who knows what else? Actually, there is one thing pressing rather insistently at my mind tonight, and that is . . .
THE FIVE MAGIC SPINDLES WINNER ANNOUNCEMENT TOMORROW MORNING. Ack! The suspense!
For all of you who entered along with me, I hope your hearts are prepared for whatever the results may be. Know that you accomplished something crazy awesome with your novella(s). You crafted a
story
, a living, breathing tale of wonder. You finished it; you got all the way to the end and most probably edited it many times over. And no words written are ever a waste. You learned something with this novella. Maybe how to retell a fairytale, or how to write a better plot twist, or how to be concise (looking at myself over here!). Maybe you refined your dialogue skills, or fell in love with a genre you've never written before. Maybe you discovered the camaraderie of fellow writers through this contest. Maybe you conquered the fear of letting others see your work. Well done, I say! Well done!
How were your February quests? Was your month a hurricane too, or more like a quiet breeze? What do you think of the Lord of the Rings movies? Have you ever sought people out for research purposes? And do you think you'll survive till tomorrow morning?!