Well, well, well. What do we have here?
A clichéd villain line used as a blog post opener? Surely you wouldn't stoop so low. Delete those words now, and no one gets hurt. Delete them or else. Delete them or your loved ones pay the ultimate price. Delete them or I will tell the whole world your Deepest, Darkest Secret. Mwahaha.
. . .
What, none of that fazes you? You refuse to comply? Very well. You'll pay for this, Tracey.
Um. Apparently I was just having a villainous conversation with myself. I promise you I'm a completely sane, law-abiding citizen, and that whatever crazy I do have is confined to words on a page. (Usually.)
All that nonsense aside, welcome to the third round of Lovely Books! Here's a rundown in case you missed it:
First, we grew infatuated with some
beautiful novels bearing attractive names
. Then we got to know them a little better as we discussed their
romantic sides.
Now the book-love is put to the test as we delve into the dark corners of our favorite stories. It's getting real here, people--no more surface fluff between us and the books. Now it's down to the genuine, nitty-gritty relationship. (Okay. That analogy is already crumbling to pieces in my mind, so let's not dwell on that.)
What I'm
trying
to say is that Round 3 is all about villains. Some we love, and others we love to hate. If you want to join in the discussion, there's a linkup form at the bottom of this post, along with the very few rules involved. (Basically: steal the Lovely Books picture, write up a villainous post, and add your link to the form. Bam. That's all there is to it. Oh, and if you feel like combining editions, go for it.)
Those lovely antagonists . . .
He's a pirate! (Cue
this music.
) A fiendishly awesome pirate who wields a spiked staff, his 'bleeding stick.' He kills and pillages and burns, much as you'd expect from his ilk.
"Much more than that," said Thorne with an ominous, gravelly laugh. "That flask was filled with a potent mixture of the strongest rum and ground-up bog myrtle roots. It enflames their blood lust until is nigh unquenchable and deadens the pain that they feel. When the Berserkers reach the field of battle, it will be with such blunt violence . . . such a bloody frenzy, that few--if any--who come in contact with them will withstand it. My advice to you, Mister Teach: stay out of their way."
-Isle of Fire
This guy is a major creep. He's the pastor of a church in the small town of Solitary, but God is strangely absent from his sermons. He's got skeletons in the closet (literally). His deranged wife never leaves the house. He starts out trying to pass as a nice guy, even buying the main character Chris a gift, but from the start you can tell something is more than a little off with this man. I can't say too much else without spoiling things.

[He's speaking of God here.] Marsh pauses, his eyes narrowing, his face growing dim. "Nobody's on the other line, Chris. He left a long time ago."
-Hurt

Mictar
If Jeremiah Marsh is a creep, Mictar is a psycho. If I remember him clearly enough, he's tall, gaunt, and pale--a walking corpse fresh from the graveyard, as Nathan describes him. His modus operandi involves sucking the life out of his victims by taking out their eyeballs. I have vivid memories of those scenes . . . eyes sitting in the palm of his hand, with the veins still attached and bleggghhh . . . That dude is just evil.

"Anything I want?" Mictar covered Dr. Simon's eyes with his dark hand and spoke softly. "I want you to die."
Dr. Simon's body stiffened, his mouth locked open in a voiceless scream. As Mictar kept his hand over his victim's eyes, sparks flew around his fingers, and the two men seemed to hover a few inches off the floor. Simon quaked violently, while Mictar's body gradually regained its light.
-Beyond the Reflection's Edge

A classic villainess! As the proud Queen Jadis in The Magician's Nephew, she prompted me to mentally shout "No! No, stop it, you evil creature!" many a time. (Why, oh why, did Digory have to strike that bell?) And then as the White Witch in The Lion, the Witch, and the Wardrobe, she is perfectly malevolent. And yet the reader is ever aware that she is not the most powerful being in Narnia. When Aslan roars at her, isn't that such a satisfying feeling?

"I had forgotten that you are only a common boy. How should you understand reasons of State? You must learn, child, that what would be wrong for you or for any of the common people is not wrong in a great Queen such as I. The weight of the world is on our shoulders. We must be freed from all rules. Ours is a high and lonely destiny."
-The Magician's Nephew

Going back to pyschos, apparently. Saying Marsuvees is messed up would be an understatement. His catchphrase, "Wanna trip, baby?" makes him sound like a druggie, which he isn't. But he does swagger around town in his trench coat and wide-brimmed hat, convincing people to stake each other in the heart and lovely things like that. And I seem to remember him being involved with those big slimy worms and those really important books . . . ? And I think he does something with eyeballs too. I'd say he ranks among the weirder villains Dekker has written. But then again, that's a fairly long list.
"Now, when I say that I've come to bring grace and hope, I may mean something altogether different than what you think. My kind of grace and hope is full of life, my friends. A real trip. Not that you have to agree with my definitions of those two most holy words. I'm not here to ram anything down your throats, no sir. But we're on dangerous ground here, and I strongly suggest you pay attention."
-Showdown
Death-in-Life / Life-in-Death
(
Tales of Goldstone Wood
by Anne Elisabeth Stengl)
This sibling pair is deliciously creepy! Though the Lady of Dreams (Life-in-Death) doesn't appear that often in the series as a whole, she wreaks havoc in the lives of good characters by tempting them with the realization of their dreams, only to leave them hollow and dissatisfied upon the fulfillment of those dreams. And the Dragon (Death-in-Life) is FABULOUS. With paper-white skin stretched over a black skull, and his ability to transform into a monstrous dragon at will, he makes for a formidable foe. Oh yeah, and he's basically the Satan figure of this story world.

"Did you bring the dice?"
He raises a hand. The skin is leprous pale, stretched thin over black bones, and each finger is tipped with a talon. In his palm he holds two dice, their faces marked with strange devices.
"I want her for my child," he repeats, and smoke licks from his forked tongue. "She is beloved of my Enemy."
"Roll the dice," says the Lady, her eyes not breaking gaze with his.
"I want her, sister."
"Roll the dice."
He clatters them together in his hand, then sets them rolling across the mist-churned floor. Her gaze does not move from his face as he follows the progress of the dice. When at last they are still, she sees the flash of triumph pass over him.
"The game is done," her brother says. "I have won."
"She is yours, then," the Lady replies. "Take her. But 'ware, brother! You've not won yet."
-Heartless
Remember her from the original King Arthur legends? She sashays her way into the Dragons in Our Midst story world, all crafty and silver-tongued. Sometimes she appears in the form of a raven. Surviving millennia, she manipulates and lures and slays from the dawn of time up until present day. Makes me want to gather all the heroes in my arms and protect them from her witchiness.
Billy took a quick step back, and Morgan folded her hands at her waist, bowing her head. "I am under a curse only you can break, Billy Bannister." She looked up again, her eyes imploring. "Set me free, and I'll help you take the throne of England. Together we'll spread your goodness to all of mankind."
-Circles of Seven
Taksidian
(
Dreamhouse Kings
by Robert Liparulo)
An assassin with a penchant for dismembering his victims. He keeps a horrible sculpture-thing made of people's fingers and ears and noses all glued together. Pursuing the King family across the ages (it's a time travel series, you see), he will stop at nothing to get what he wants. He's just plain malicious. And I don't recall the details (again!), but I believe his evil plans are far-reaching.
"Can't let you do that, Mr. Taksidian," the remaining cop said. "It's not your house, sir."
David expected the man to say
Not yet . . .
but what he did say was worse.
"But, Officer Benson," Taksidian said, "there's no place they can hide where I can't find them."
-Gatekeepers
Hashim
I would be very surprised if any of you had heard of him. He lost his family, home, and honor because of Cale Caldwell (the protagonist) in the Desert Storm of Iraq. Driven by revenge, he goes after Cale, but not with brute force and sprays of bullets. No, he would rather deal one psychologically crippling blow after the other, so piece by piece, he dismantles Cale's life. Diabolical, isn't he?
Sadly, I have no quotes from him, as I don't own the book and couldn't find anything online.
Gollum
I needed to mention at least one sympathetic 'villain.' But that's not to say that Gollum is any less deserving of being on this list! Oh no! He's a many-layered character, tragically flawed and, at heart, very human. He made bad choices, and we can see how much he suffers the consequences. Obsessed with the Ring, living a miserable life . . . I mean, just think of how stark the contrast is between his current existence in a cold, damp cave, and the warm, countryside home he surely used to have as a hobbit. When you remember how dearly hobbits love home and food and quiet, Gollum's life seems even more wretched. But even this lurking little antagonist does some good in the end. ;)
"Is it nice, my preciousss? Is it juicy? Is it scrumptiously crunchable?"
-The Hobbit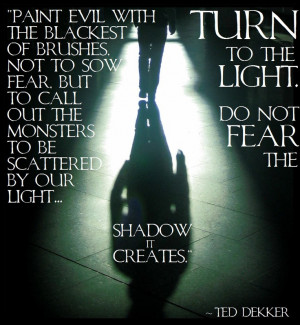 It appears I enjoy the villains with dark, twisted minds. Also ones with tragic backstories. But mostly the really, deep down evil guys. I don't know, maybe because the blacker the shadows, the brighter the light shines? (I do like the sympathetic villains as well, the ones who are more grey than black, but I couldn't think of many.)
Come to the dark side, readers...