Note: This is not a review. This is merely a gathering of my thoughts, and is not meant to be comprehensive. You can find an excellent content review here.
Recently I watched Into the Woods, and came away . . . conflicted. I love fairy tales, and I generally enjoy musicals, but aside from those general labels, I had few expectations. That's probably a good thing, because a few weeks later, I still can't make up my mind about it.
The movie begins delightfully, introducing multiple story threads and drawing them all toward the perilous Woods. The rich scenery and costuming, clever lyrics, and vibrant characters had me grinning as I settled deeper into my seat, eager to see the many threads collide.
Empty-headed Jack trudges into the Woods to bring his beloved cow to market.
Cheeky Red Riding Hood marches into the Woods to deliver goodies to her ailing granny.
Wistful Cinderella heads into the Woods to visit her deceased mother's grave.
The desperate Baker and his Wife rush into the Woods to hold up their end of a bargain with a witch, who says she'll give them the child they long for if they gather certain items.
And somewhere deep in the Woods, lonely Rapunzel languishes in a tower.
A fascinating web, is it not? Especially when the items the Baker and his Wife are supposed to gather happen to be:
·
A cloak as red as blood
You see where this is going, don't you?
It's this couple's quest that tangles all these stories together. And it's rather enjoyable to watch the tales interact and intertwine the way they do. (I found the Baker to be one of the most endearing characters.)
But the final act ruined it.
Just when the story seems to be wrapping itself up nicely, everything comes crashing down. The plot slogs into tedium, the songs stretch out a few too many verses, and in the end, no one gets a truly happy ending.
As a member of the audience, I was left frustrated and restless. "That's how you end it?" I thought. With a dragged-out finale? With characters left to a bittersweet conclusion at best, a miserable existence at worst? Can there not be at least one happy ending?
That's my viewer's opinion.
My writer side, however, feels differently. First of all, this tale rang truer than a lot of sugary, Disney-fied movies. (Yes, this was a Disney film too, but it felt more darkly realistic. Definitely a Grimm flavor.) Characters made choices, and those choices had consequences. There were profound messages on parenthood, the cost of obtaining one's desires, and growing through trying circumstances. So as a teller of tales, I can see how the movie drives home an important point. It's not a happy point, but it is something worth paying attention to. As a writer, I appreciate how the story played out.
If the pacing had been faster/smoother, I would have been mostly satisfied. I wish the plot had culminated more efficiently. But "wishes come true, not free." And so I'm left to ponder these matters, a whirlwind of issues even the Witch would be proud of.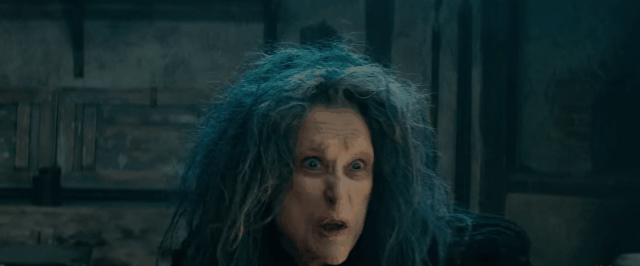 What about you? Have you seen Into the Woods? If so, what are your thoughts? If not, what do you think about unhappy endings in general?