I usually like to focus on the positive side of things. And as a bookworm who is also a writer, I try to give my fellow authors room for occasional slip-ups because I know how hard it is to produce a book. (At the same time, as a writer I also tend to hold authors to high standards. So it goes both ways.)
I guess what I'm saying is I try to be positive, but I also try to be honest, and I appreciate quality writing. There's just not enough time to waste on a bad book, am I right? I'm here today to discuss some of my personal pet peeves as a reader.
(I have discovered that Dr. Who gifs are fun, even if I've never watched that show.)
1. Dumb parents
You know those books--often children's literature, but sometimes YA too. Mom and Dad are clueless. Their kids are ten times smarter than they are. The joke's on the parents. Events conspire to highlight their deficient intelligence, and it's usually played for laughs. Where's the respect? Those impressionable children need good examples. They need somebody other than Mom and Dad to back their parents up. To show them that Mom and Dad are wise, they're doing what's best for you, and you would be well advised to listen to them and realize how much they love you.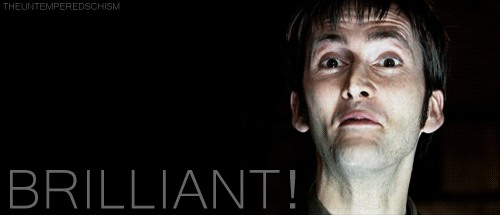 Let's just say I didn't read many Robert Munsch books growing up.
2. He saw/heard/felt/knew
This might be the ultimate object lesson for "show, don't tell." Many authors feel the need to spell things out explicitly for the reader, and it comes off forced and lacking in emotional punch. Please don't tell me that Bob is angry--
show
me. Show me the reddened face or the bulging vein at his temple or the clenched fist or the slamming door. Don't tell me Sally is feeling sad. Show her fighting tears or her downturned eyes or her shoulders quaking with silent sobs.
Likewise, telling me that Bob knows something ruins the POV intimacy. There are more creative, subtle ways to convey the main character's knowledge than: "Bob knew the enemy tribe bred small, light-footed horses for crossing the plains quickly."
And while we're at it, I like immersive sensory details. None of this, "He could see the horsemen cresting the ridge," or "She heard Granny snoring in the next room." Just say, "The horsemen crested the ridge." We should know at this point whose head we're in, and if he can't see it, neither should we. If you're writing this way, there's no need for "he could see."
For the second example, just write, "Granny's snores rumbled through the thin wall," because it should already be apparent that the point-of-view character is the one hearing this.
It's a waste of words, lazy writing, and an insult to the reader's intelligence to overuse those sensory tags.*
*Now, there are exceptions to every rule (not that this is a rule, necessarily--just my preference), and so of course there will be instances when an author just has to say "he saw/heard/felt/knew," because that really is the best way to say it. Those times, however, are few.
3. The world is falling to pieces, but let's spend all day kissing instead of saving everyone.
Looking at you, Tris and Tobias.*
This is predominantly a problem in romance, whether YA or otherwise. The world is about to crash and burn, lives are at stake, a rebellion is launching, and the couple is making out. Firstly, ew, can we cut back on the details, please? And secondly, where are your priorities? Yes, I get that life-threatening circumstances can forge a deep bond, but maybe you two can work out your relationship later on. When the fight is over and people are safe. When the world isn't ending. Save your kisses for then.
*I like the Divergent books, I do. I just have a bone to pick with this particular aspect.
(Also, don't get me started on the tendency among female protagonists to have this mindset: "Ooh, there's a tall, dark, and handsome fellow with daddy issues and anger problems. I love him!" This mindset is made even worse when you throw it into the paranormal soup. "A tall, dark, and handsome fellow who probably wants to kill me or suck my blood--I love him!")
4. Lack of emotional connection
Sometimes tied to #2. It's just . . . I find it hard to enjoy a book where I can't establish an emotional connection with the main character. Or with any character. I want the author to slip me inside that MC's skin. I want to be in their head and feel what's on their heart. I want them to react to things. Even if the character is a relatively unemotional person, I still want to make a connection of some sort. When I can't, the entire book falls flat.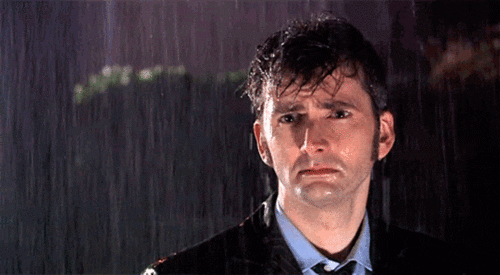 5. Instantaneous transformation
You may remember my vehement thoughts on
Shadowmancer
back in January. In that book, Demurral (the villain) looks out over the land and is instantly overcome by greed and blackness and hunger for power. Just like that. No real motivation at all. Bleck.
This goes for all characters, by the way, whether they align themselves with the good guys or the bad guys. I love transformation, redemptive character arcs, downward spirals, etc. But
not
instantaneous ones. Internal change takes time. It takes strong emotion and logical motivation.
Please don't make a normal guy turn bad on a dime. Please take longer than a few paragraphs to redeem a villain. Don't chuck your soon-to-be hero headlong into his journey without setting up something to
motivate
that quest. And pretty please, stay away from instantaneous or miraculous conversions to Christianity. Not even we Christians like that.
6. Agendas
While we're on the topic of conversions . . . *cough* I have a problem with writers approaching their books with an agenda. Even if I agree with that agenda, I don't read to get a sermon, okay? Of course I adore strong themes, but these should arise naturally from the story instead of being shoehorned in there like propaganda.
I picked up your book because I wanted the story, not because I wanted to hear your thoughts on climate change (pfft) or homosexuality (
Above,
you were a waste of time) or politics or diversity or any of that. Not to say those topics can't be skillfully incorporated into a book--they certainly can--but when the story is a thinly veiled sermon on said topic, I'm very much turned off.
7. Bad grammar
There have been books that have made my fingers twitch for a red pen. This is bad. No book is perfect. No editor is perfect. But argh, it drives me up the wall to see typo after typo, or consistently bad grammar! It makes me think somebody accidentally published the wrong draft, or that the editor took a vacation. And sometimes, when it's really bad, I wonder how this person is even an author. I thought acceptable grammar was kind of in the job description?
Speaking of grammar, I'm a strong believer in the Oxford comma. I can forgive those that don't use it, but its absence always snags my attention.
8. Sluggish pacing (because we readers are desperate to spend another fifty pages watching your characters do nothing)
One word: ERAGON. I don't believe I've talked much about these books here before. Let me start out by saying that I know people who love the Inheritance Cycle hugely, and I say good for them. But I am sadly not one of them. I've read the first two books, and I plan to read the last two at some point. I have a few things to rant about, but the biggest is probably the pacing. Or lack thereof. Have you seen those books? They are massive. Again, nothing against big books, but please--if you're going to write something long, make sure that every single one of those gazillion pages does something important for the story!
As a young adult, I have less reading time than I used to. (This is a great tragedy of adulthood, one which I hope to redeem somehow. Magic would be helpful.) So when I do read, I want to be sucked in right away. I want the story to keep moving forward. Lollygagging about watching the characters accomplish very little or waiting around while the plot camps out in the same spot for a dozen chapters is . . . well, it's a little boring.
Just to clarify, not every book needs to be a thriller, either. I don't need (or want) a breakneck speed every time. I just want something to be
happening.
9. Mr. Evil-to-the-bone & Mistress Strangle-you-in-your-sleep
This particular pet peeve totally depends on the context. It's when a villain comes onto the scene for the first time, and the other characters don't know who he or she is--but it is immediately obvious to the reader because of the villain's name. It's hard and guttural, or slimy, or slick and smooth in a vile way. The name might include something to do with black, night, chills, shadows, or the like. I don't mind blatantly obvious villain names (besides, Saruman sounds way more menacing than, say, Kyle). But if we're not supposed to know right away that this character is bad, then, um . . . you should've picked a less obvious name.
If, however, the story is self-aware and a little tongue-in-cheek, then I can smirk at the hero's ignorance when Sir Blackheart oh-so-innocently enters the scene, and read on.
10. Floating POV
This is when there is practically no established POV whatsoever. I can't tell if it's limited or omniscient or something else, because it waffles between them all. Whose head am I even in? Are you going for an omniscient feel, Mr. Author? Because right now it just feels like head hopping, and sporadic head hopping at that. It's so muddled up, I can't even tell which rules you're breaking. (I think maybe all of them . . . ?)
What are your pet peeves?
Do we share any? Do you disagree with any of mine? These are all preferences, so maybe what bugs me makes you the happiest bookworm to ever devour a book. Let's discuss things!
P.S. The
blogoversary giveaway
is still open until midnight on Sunday the 10th, so hurry and enter! The survey doesn't have a closing date, so you still have plenty of time to participate in that if you so wish.